Step 1 – Choose Your Amount
Use our online loan calculator to choose your loan amount. Then, choose how long you want the loan for and your estimated repayment will be calculated.

Step 2 – Complete Application
The application process is easy! Click apply now and enter your personal details, income, expenditure and bank details then submit and you'll be contacted within minutes with a decision.

Step 3 – Receive Your Loan
We will try to match you to a lender with the information that you have provided. They will complete the process and your loan will be flying into your account.
Why Choose Us?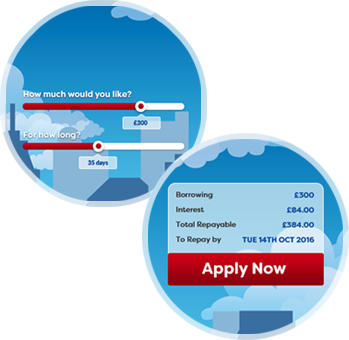 LoanPig wants to find you the best possible loan, based on your circumstances, to do this he will contact all of his lender friends to find you the best short term loan rate. If LoanPig cannot find you a super rate, then no-one can.
All credit histories welcomes
High acceptance rates
No phone calls
100% online
Safe & Secure
We can give you access to one of the UK's largest panel of lenders, to find the best loan deal available for you.
Using innovative technology, Loan Pig offers you an efficient, easy and fast application process, which will allow our customers to securely apply for a short term loan. We aim to match you with a lender that is interested in your application.
Short Term Loan
At LoanPig, we understand that life can be full of surprises and paying them back can be rather difficult, this is why we try to keep the application for short and personal loans as simple as possible. Short term loans are an effective way to support your finances when it comes to paying off your outgoings. It's common for everyone when it comes to the latter part of the month, our bank balance can be rather low. But with LoanPig, we can offer fast loans that will help rectify the problem and help you balance your finances once more.
In regards to your personal loan, a short term loan will give you that little extra peace of mind because we ensure that you are able to find a tailored quick loan solution that suits you and your needs. Short term loans can be the perfect option as you'll have a scheduled payment plan that is usually to be repaid in less than a year.  Because we accept all sorts of credit histories you'll have a better chance with LoanPig in regards to obtaining a fast loan, making sure you aren't left without cash.
Emergency Loan
Emergency loans are quick loans to help you through those unexpected times; they are personal loans that can provide a quick solution. If you were to take out an emergency cash loan, at LoanPig our representative APR is 1261% based on a fixed APR of 292% and we can offer a structured plan to help you find viable ways in paying off your personal loan. When taking out an Emergency loan with LoanPig, you'll be given the reassurance of being able to handle those unexpected expenses- that's why we make it our priority to issue an effective, quick loan. After applying for an emergency loan with LoanPig, we'll ensure that the cash will be with you as soon as you need it and we'll provide you with full support when it comes to paying it back. As a responsible lender, we will only lend to those who can afford to pay it back, so if you find yourself in an emergency, get in touch with LoanPig now.